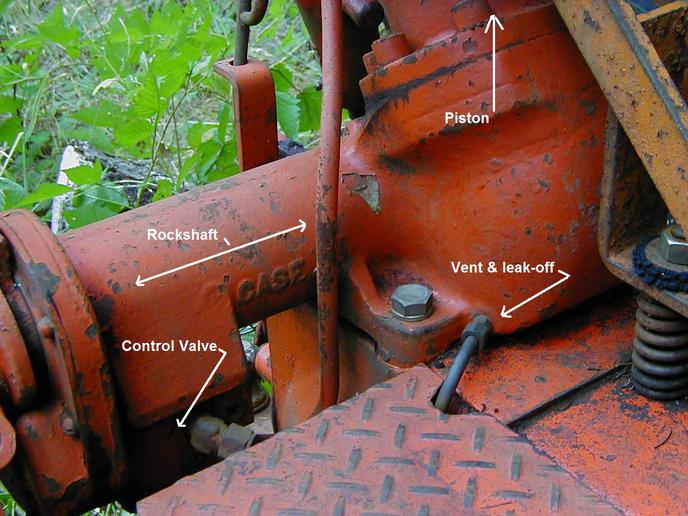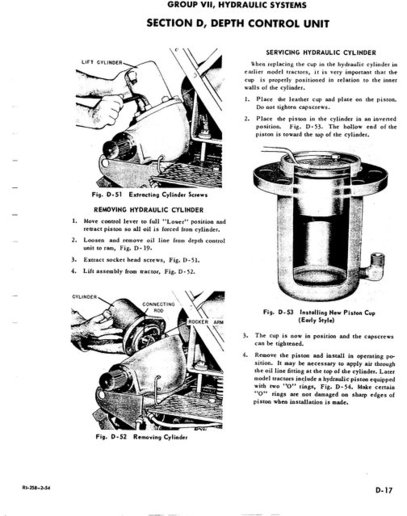 1950 will have the piston with the leather cup unless it has been upgraded to the piston with 2 O-rings.
The vent-leakoff tubing conveys piston seal leak-bye back to the torque tube. If the tube is plugged or the leak-bye is beyond the capacity of the tubing, oil level rises in the rockshaft housing and leaks out the control valve side.
To measure piston seal leakage, pull the vent-leak off tubing off at the fitting. Cycle the hitch up and down about 10 times to void the collected oil in the rockshaft housing. Put the draft arms up with some weight. You should be down to a slow, intermittent drip or the piston seal needs changed.
Cup is easy to change. If you can"t enlarge the 2nd pic enough for reading, go to the link below, scroll down to page G7 D17 at the bottom. Click on the page to enlarge for reading.
It is important to follow the instructions and get the cup centered or you"ll never get it in the cylinder without damage. Clean the grease out of the rockshaft and make sure the vent-leakoff tube is clear back to the torque tube.
Joe